Each and every project that we undertake is completed by volunteers and paid for by generous donations be they from individuals, corporations, non-profits, or churches. All of the organization of these donations, projects, and labor are done by our experienced board of directors.
---
​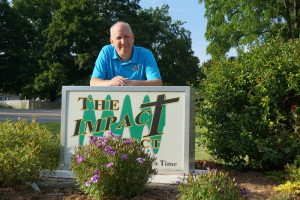 Director: Jim Willard
Jim has lived in the Southern Tier his whole life. He moved to Greene 24 years ago and has 2 great children Michael, 17, and Jessica, 22. Jim worked in the finance industry for over 26 years and has spent the last 12 years directing and coordinating The Impact Project. In addition Jim is an Eagle Scout and Denver Broncos fan since 1977. In his spare time Jim likes to golf, get some exercise by running and going on long walks and camping.
---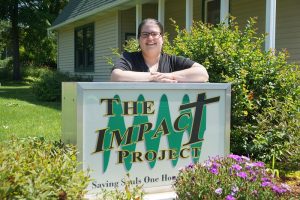 Administrative Assistant: Mary Hess
Mary has lived in the southern tier off and on for the past 9 years. Mary grew up in a small town in Northern Oswego County called Altmar, NY. At present Mary not only is the secretary at The Impact Project but she is also a cashier at Dollar General in Greene NY.  In her spare time Mary enjoys watching movies, reading, sewing, and gardening.
---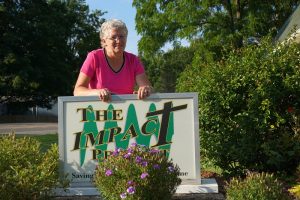 Co-Director: Jill Jackson
Jill has spent the last 37 years living in Brookdale PA, for the last 17 years she has been working in the garden center at Binghamton Agway. There's hardly a plant that she doesn't know about. When Jill has spare time she really enjoys outside activities including kayaking, hiking, camping and working in her flower gardens. Jill has a God given passion to help people and enjoys all the time she spends with The Impact Project.
---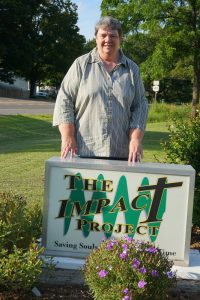 Treasurer & Secretary: Betsy French
Betsy has been married to Don for over 30 years and together they have four children and seven grandchildren. They have lived in Greene their entire married life. Much of Betsy's time is spent providing day care for her grandchildren. She has been an active member of Berean Bible Church for over 20 years. Her care for other people has led her to be very involved with Berean as well as with the Impact Project. Betsy really enjoys being with her friends and family. In her spare time she likes to sew, quilt, and crochet.
---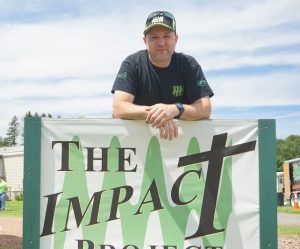 Co-Director: Chad Springer
Chad has lived in the Southern Tier his whole life. He and his family attend and are actively involved with Binghamton First Church of the Nazarene for 36 years and has been a follower of Christ for 24 years. Chad has worked as an entrepreneur and in the medical field. He presently works in the Emergency wards of UHS hospitals. In addition, Chad really likes to get his hands dirty with handyman and carpentry work. In his spare time Chad likes camping, hiking, swimming , boating, aviation and working for God. Chad's favorite foods are pizza and steak and his favorite movie is Top Gun and loves to listen to Southern Gospel music.
---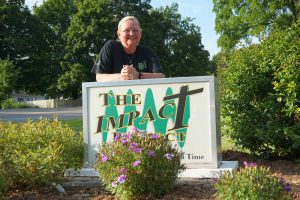 Co-Director: Wendy Young
Wendy grew up in the Southern Tier, and graduated from Chenango Forks High School. During her work as a Quality Assurance Specialist her career took her to Syracuse where she met her wonderful husband Andrew. They have been married for 14 years and have a precious 10 year old daughter Sarah. You'll often see Sarah helping at the Impact projects too. They moved back to the area 11 years ago and live outside Harpursville in the house that used to belong to Wendy's grandparents. Andrew is a server at the Silo restaurant in Greene. Both Wendy, and Andrew are active members at the Greene Assembly of God, serving in whatever area the church has a need that they can fill. In her spare time Wendy loves to spend time with her awesome longtime girlfriends and as much time as possible with her family at the family camp near Syracuse all summer. In the winter, it's reading books, going to bed early and trying to keep warm in the old farmhouse.
---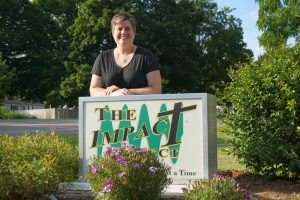 Co-Director: Sarah Moore
Sarah has lived in the Norwich area her entire life. She graduated from Valley Heights Christian Academy in Norwich and went on to college at Cedarville University in Ohio. She and her husband, Ben, have been married for 16 years and have one child, Evan. The whole family can usually be found working together at church, school and Impact Projects. Sarah and her family attend Calvary Baptist Church in Norwich. She spends her spare time cooking, reading, coaching and volunteering.
---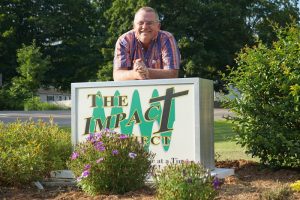 Co-Director: Jeff Jacklin
Jeff has been married to his wife, Rae for 25 years and together they have three children. After a short stay in Louisiana, Jeff and Rae moved to the Norwich area 4 years ago. Upon their return to Norwich, Jeff and Rae felt the calling from God and began attending Calvary Baptist Church. They are both active members and serve in anyway needed. Jeff is currently working in the Ithaca area as the Quality Assurance / Failure Analysis coordinator at Kionix. Anytime free time not spent pursuing his Bachelor's degree, Jeff enjoys spending time with Rae. Together they are committed to helping others and continue to walk the path God has placed before them.
---